More of us are seeing videos of these shows on the internet – huge productions of 3D light forms displayed in the night sky by drones. Our introduction to these videos came last year, and we were instantly impressed.
What exactly does one of these shows entail? 
Multiple drones equipped with LED lights, all programmed to fly in a coordinated fashion for a public display. To draw an analogy – imagine hundreds of flying pixels animating a screensaver, but the monitor display in this instance is the night sky, and those pixels – well, they're all little LED lights.
Thinking about ordering a drone show for your event? Our advice: start planning the event 3-4 months in advance. The following production steps highlight the thinking needed in the run up to your event:
You'll need to decide what shapes you want to see.
Chose which music is to be played during the display.
The drone company will then create a 3D simulation of the event (edits can be made at this stage).
A test flight is completed by the drone company at their facilities (minor edits to the show can be made at this stage).
Rehearsal time takes place on-site, the day before the event (the format of the show is locked at this stage – no changes can be made).
Alongside this, you'll also need to receive authorization to fly the drones from the local authorities. This process can take some time, but is usually organised by the drone company you hire.
After months of lockdown, people are starved for entertainment. They've apparently binge-watched everything they ever wanted to see on Netflix, HBO and Disney+, played video games until their eyes bled, and became bored enough to even manage to read a book or two.
Are drone light shows the solution to "the fireworks problem"?
Drone light shows differ from fireworks displays because drones are reusable, and do not produce chemical and noise pollution. However, there are only a few dozen companies in the world that have the proper permits, training, technical skills and supplies to plan and carry out a large-scale drone light show.
Drones used to create light shows are equipped with just the barest essentials: Global Positioning System (GPS) sensors and a powerful LED light that can create more than four billion color combinations. This allows these drones to produce a greater range of effects than fireworks and to present almost unlimited opportunities for artistic storytelling in the sky. There also are drones that are designed specifically to fly safely in constrained air spaces where fireworks are simply not feasible, such as indoors.
Light show drones are usually controlled in fleets of hundreds by a remote computer to create colorful shapes and patterns in the night sky. But as computer technology progresses, fleet size grows. For example, in 2015, a Guinness World Records title was awarded to a fleet of 100 drones. In 2019, it was 2,018. Additionally, as 5G technology advances, location tracking will become more precise so drones will be able to fly closer together to create ever more detailed and intricate patterns in the sky.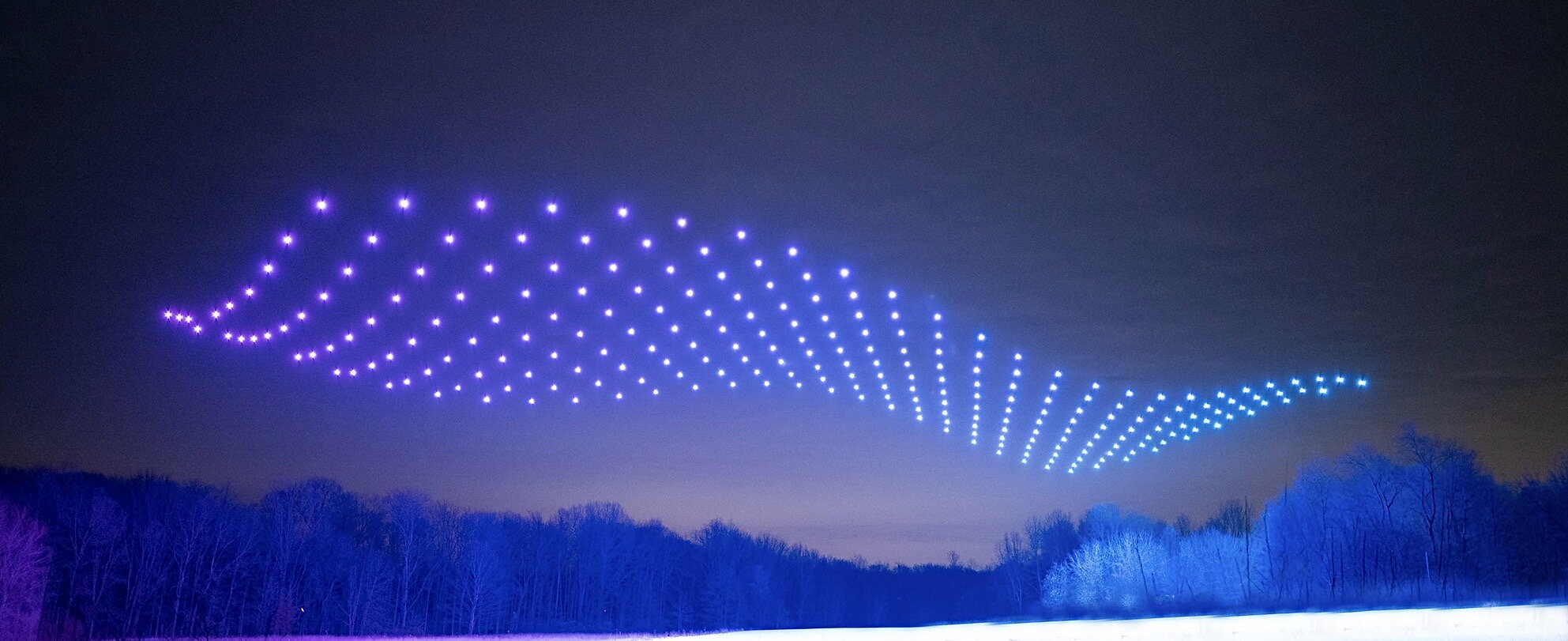 To conclude, will the drone light show replace classic fireworks in the future? Categorically yes.
With the growing environmental concerns around the use of conventional fireworks, drone light shows present a more eco-friendly, non-polluting alternative and could easily be a viable replacement. In terms of public excitement, it's also a definitive yes. Classic firework shows have existed for 2000+ years, and it feels like it's getting harder to truly impress the public with them. It's like watching Love Actually at Christmas – plot-wise you know perfectly well what's going happen, but you continue to watch anyway because it's become a tradition. With a drone show, the situation is different. Now you can tell whole stories with light. Imagine digitised, storytelling fireworks animating the sky with flying pixels. The only thing holding the drone show back right now is price. By the same measure, for someone who wants to show their status, and highlight their success, now is the best time to book a drone show. After all, if you can afford one today it means your bank account is in rude health.